The Kashti Awards were instituted to recognize and honor luminaries in the Indian maritime industry. A rigorous process of application and Jury selection have been applied to identify and present these important awards that have been constituted by Marex Media Pvt. Ltd.
Captain Kamal Chadda, Editor or Marimex Media Pvt. Ltd. states that the Kashti Awards were started in 2005. The 2019 edition was held in New Delhi on the 1st of October 2019 and was graced with the presence of Shri Mansukh L. Mandaviya [Union Minister of Shipping] and Mr. Krishnaswamy Natrajan [Director - General of Indian Coast Guard] among other dignitaries from both the shipping and non-shipping industry to allow for cross pollination.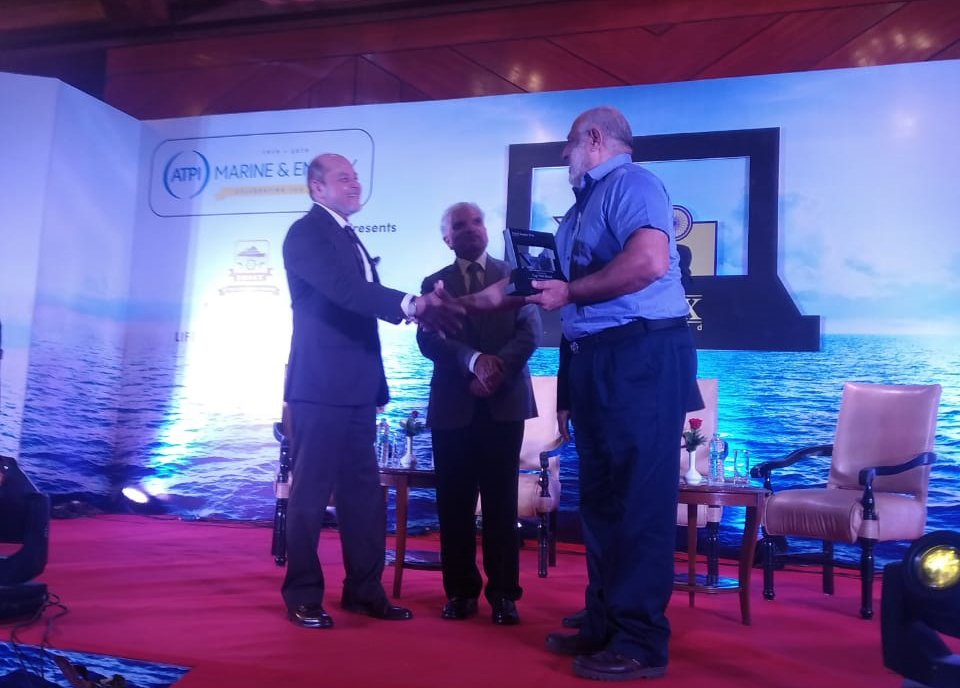 There were 30 awards, out of which almost one-third were awarded to women in the three categories - Kashti Ratna, Kashti Vibhusan, and Kashti Bhusan. It is important to note that awards are given to individuals who have excelled and not to companies - hence it is their personal accomplishment, Captain Kamal Chadda states.
Capt Nitin Dhond has received the 'Kashti Vibhushan' ( Treasure of Shipping) award on 1st October 2019 in Delhi for his contribution to innovation in the Indian maritime sector and its ship development over the last four decades.
Capt Dhond expressed his feelings on this occasion saying "It is truly gratifying to be recognized by the maritime fraternity and my regards to the Editorial board of The Marex Bulletin for instituting these awards in India. He acknowledged DG Shipping, the maritime industry and his teams at Angriya Sea Eagle Ltd for supporting him in all his ventures."
Captain Nitin Dhond's visionary foresight helped him successfully launch and operate India's first domestic cruise liner "Angriya" with an all Indian crew and hospitality team. Through this project, Captain Dhond has not only rejuvenated the dormant and commercially important Goa-Mumbai passenger route, but he has also infused life into the domestic cruise tourism industry.
Captain Dhond also went a step further and conceptualized and supervised the first floating terminal at sea, 800 meters from the domestic cruise terminal in Mumbai Port Trust. Manned and operated by his company Angriya Sea Eagle Ltd from October 2018 this is the first of its kind of "Made in India" terminal in Indian waters, and can berth vessel up to 140 meters length, with draft of 6 meters and displacement of 7000 tons.
With his innovative hospitality skills and extraordinary zeal Capt Nitin Dhond redeveloped the passenger lounge, restaurant, rooftop bar and interpretation center on Goan history and natural heritage at the Goa International Cruise terminal.
Captain Nitin Dhond's on-land achievements too are of an exceptional nature. He conceptualized and created one of India's first and finest private forest sanctuaries to protect over 700 acres of Western Ghats forests in the Sahyadris over two decades ago. Having conserved the area, he teamed up with wildlife scientists and local communities and set up 'Wildernest Nature Resort' a multi awarded Eco-tel in the Western Ghats region that has been included as one of the "Green Places to visit in the World" and is considered a beacon to follow in the eco tourism sector in India.
Capt Dhond's admirable focus to create employment, develop manpower with skill sets in India and provide employment to over 3000 plus Indians holds him in high stead in the Indian maritime as well as hospitality sector and this award is a recognition of these pioneering efforts in the maritime industry.
Nirmal U Kulkarni
Herpetologist | Wildlife Photographer | Artist.
Member, Goa State Biodiversity Board.
Member, Goa State Wildlife Advisory Board.
Member Viper Specialist Group IUCN
6 Hiru Naik Bldg, Dhuler, Mapusa, Goa- 403507, India.
www.wildernest-goa.com
www.mhadeiresearchcenter.org
www.angriyacruises.com
www.herpactive.com